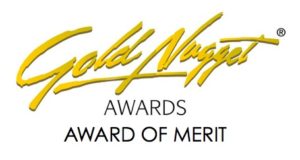 Judges for the 2019 Gold Nugget Awards named Drewett Works as an Award of Merit winner in its annual competition, which honors architectural design and planning excellence and draws entries from throughout the United States and internationally. Drewett Works garnered two awards at the May 2019 ceremony.
Drewett Works' honored projects were Casa Palomilla, honored for Best On the Boards Custom Home and Kachina Estates honored for Residential Detached Collection of the Year. This is the second year in a row a Drewett Works designed project has earned an Award of Merit in the Residential Detached Collection of the Year category.
Casa Palomilla, located in Marina Puerto Escondido in Loreto, Baja California Sur (Mexico), is set neatly on a man-made island within the marina. The site provides a 100 foot boat slip (as do all sites on the island), views to the adjacent Marina, and remarkable views of the Sierra de la Giganta mountains. The concrete structure borrows its kinetic forms from the DNA of the clients' French-made sailboat. The ribbon-like folding of the structure also provides for carefully framed views, cropping out adjacent properties, and a clear material hierarchy. The material palate consists of exposed concrete, vein-cut, locally mined travertine, teak, and steel. The composition of Casa Palomilla is intended to have a direct relationship with the floating occupants of the Marina — boats. Boats are built and feel as if they are always in motion. This nautical spirit embodies Casa Palomilla's core. Intended as a family retreat for diving, spear fishing, game fishing, and outdoor explorations, the design provides sleeping for 14, dining for 20, and an outdoor kitchen meant for boat-to-table service. Finally, the upper deck boasts another kitchen, a full service bar, and strategic roof openings for the profound star gazing available in Loreto.
Kachina Estates is a four-home collection of modernist luxury residences located in Paradise Valley, Arizona. The site, formerly home to the abandoned Kachina Elementary School, offered remarkable views of Camelback Mountain. Nestled into an acre-sized, pie shaped cul-de-sac, the site's unique challenges came in the form of lot geometry, western primary views, and limited southern exposure. While the lot shape had a heavy influence on the home organization, the western views and the need for western solar protection created the general massing hierarchy. With indoor-outdoor living as a priority in these four luxury speculative projects, connecting indoor and outdoor with organizational flow as well as materials melded spaces together. Seamless connection of the interior and covered exterior spaces through use of re-entrant pocketing glass doors extends public spaces to the outdoors. Highlighting the fantastic Camelback Mountain views was also a priority for main living spaces and outdoor spaces, too. Kachina Estates was the brainchild of developer Rich Brock of Bedbrock Developers, LLC who also served as general contractor on the project.
"Gold Nugget Award winners reflect our industry's best, brightest and most innovative architects, planners and builder/developers," said Judging Chairman and Gold Nugget ceremonies administrator Lisa Parrish. "We applaud them all." 
Now in it's 56th year, GNA is the largest and most prestigious competition of its kind in the nation. It honors design and planning achievements in community and home design, green-built housing, site planning, commercial, retail, mixed-use development and specialty housing categories. Winners this year were chosen from over 600 entries from around the world.
Gold Nugget Awards — Recognizing those who improve our communities through exceptional concepts in design, planning and development.
Read more about the Kachina Estates development.