Lofty horizontal planes author a melody harmonized by tone-on-tone natural and textured materials inviting a symphony of light to flood the spectacular indoor-outdoor spaces of Tonal Harmony.
With adjacent neighbors within a fairly dense section of Paradise Valley, Arizona, C.P. Drewett sought to provide a tranquil retreat for a new-to-the-Valley surgeon and his family who were seeking the modernism they loved though had never lived in. With a goal of consuming all possible site lines and views while maintaining autonomy, a portion of the house — including the entry, office, and master bedroom wing — is subterranean. This subterranean nature of the home provides interior grandeur for guests but offers a welcoming and humble approach, fully satisfying the clients requests.
While the lot has an east-west orientation, the home was designed to capture mainly north and south light which is more desirable and soothing. The architecture's interior loftiness is created with overlapping, undulating planes of plaster, glass, and steel. The woven nature of horizontal planes throughout the living spaces provides an uplifting sense, inviting a symphony of light to enter the space. The more voluminous public spaces are comprised of stone-clad massing elements which convert into a desert pavilion embracing the outdoor spaces. Every room opens to exterior spaces providing a dramatic embrace of home to natural environment.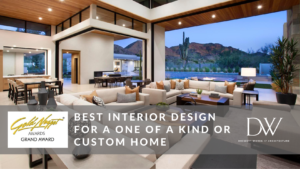 The material palette began with a rich, tonal, large-format Quartzite stone cladding. The stone's tones gave forth the rest of the material palette including a champagne-colored metal fascia, a tonal stucco system, and ceilings clad with hemlock, a tight-grained but softer wood that was tonally perfect with the rest of the materials. The interior case goods and wood-wrapped openings further contribute to the tonal harmony of architecture and materials.
This award-wining project was featured on the cover of the July/August 2020 issue of Luxe Interiors + Design and received a 14-page editorial feature entitled "A Place in the Sun" within the magazine.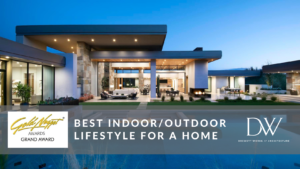 This multi-award winning project has earned accolades across the U.S. for its thoughtfully implemented design and details.
Awards include:
Room of the Year, 2020 Best in American Living Awards
Platinum, Outdoor Room, 2020 Best in American Living Awards
Platinum Award, Owner's Suite – Custom, 2020 Best in American Living Awards
Grand Award, Best Indoor/Outdoor Lifestyle for a Home, 2020 Gold Nugget Awards
Grand Award, Best Interior Design of a One of a Kind or Custom Home, 2020 Gold Nugget Awards
Gold Award, Best Interior Design of a Custom Home, The Nationals 2021
Silver Award, Best One of a Kind Home over 9,000 Sq Ft, The Nationals 2021
Regional Winner, Contemporary/Modern Interior Design, Arizona, Luxe RED Awards 2021
Regional Winner, Bathroom, Arizona, Luxe RED Awards 2021
1st Place, Bathroom, 2020 Design Excellence Awards
3rd Place, Furniture, 2020 Design Excellence Awards
1st Place, Kitchen, 2020 Design Excellence Awards
1st Place, Outdoor Living, 2020 Design Excellence Awards
2nd Place, Residence Over 6,000 Square Feet, 2020 Design Excellence Awards
Project Details // Tonal Harmony, Paradise Valley, Arizona
Architecture: Drewett Works
Builder: Argue Custom Homes
Interior Designer: Ownby Design
Landscape Design: Refined Gardens
Photography: Dino Tonn
Videography: Phoenix Drone Service
Read more about this project here: