Located in the lush and beautiful Arcadia neighborhood in Phoenix/Scottsdale, Arizona, The Barn began as a vehicle to provide necessary space for the family's annual Super Bowl Party.
Both hailing from Mississippi, the owners are diehard sports and hospitality fanatics. The Barn was previously an oddly formed outbuilding serving as a guest house. As repeat clients — their first home was featured in Phoenix Home and Gardens Dream Homes issue — they called on fellow southerner C.P. Drewett to transform this forlorned space.
The goal was a western farmhouse with sports bar DNA, a nod to the citrus farm history of the neighborhood and continuing presence of lemon, grapefruit, and orange trees. The result was an open entertainment pavilion boasting bifolding doors, fireplace, and a bar capable of interior/exterior pass-through service. Crisp white paint, limestone, and reclaimed wood create the interior palette while the exterior is painted siding in a deep saturated taupe hue.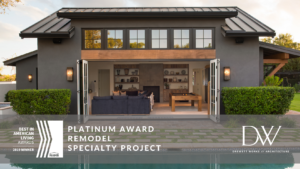 This award-winning project was recognized at the 2020 Best in American Living Awards with a Platinum Award for Renovation – Specialty Project. Additionally, it was featured in the August 2020 issue of Phoenix Home and Garden.
Project Details // The Barn
Architecture: Drewett Works
Builder: Tiara Sun Development
Interior Designer: Kathryn Schmidt
Photography: Eric Kruk Photography
Read more about this project here: