Collector's Paradise was featured in the Summer 2010 issue of Luxe Interiors + Design. One of our favorite Estancia Golf Club projects, the story is written by Caren Kurlander. We're thankful not only to Luxe and Caren, but also to photographer Grey Crawford who did a fantastic job capturing this home on film.
Desert Mirage
Written by Caren Kurlander
Photography by Grey Crawford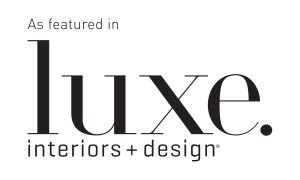 The Sonoran Desert, with its craggy mountain peaks, defines the rugged topography of Scottsdale. It also provided a dynamic backdrop and a flood of inspiration for a contemporary residence located in a private golf community. "There is so much natural sculpture everywhere you look," says architect C.P. Drewett, of Phoenix-based Drewett + Brenden Architecture. "I wanted the house to respond to that." The landscape was of primary influence to Drewett, but also to Luis Ortega, of the Los Angeles firm Luis Ortega Interiors, and San Francisco landscape architect Todd R. Cole, of Suzman & Cole Design Associates, who all collaborated on creating a house that reflects a seamless integration among its architecture, interiors and landscaping.
The homeowner had worked with each person previously and gave them loose rein and simple directives to complete her desert retreat. "She loves golf, and she loves the outdoors," says Drewett. "She wanted something modern with a strong connection to the land."
Contemporary architecture can work in any setting, but it depends on how you marry it to the site. This house was designed for this location. It's nestled into the coloration of the surroundings and disappears into the land.
The three worked toward this goal, beginning with the architecture. Drewett looked to the site, with its lush fairway on one side and jagged rock outcroppings on the other, and conceived a house that would maximize both unique views. A long stretch of glass windows and doors reaches horizontally across the fairway façade, while the roofline arcs up to take in the rocky peaks on the opposite side. To deepen the connection to the landscape, Drewett used copper for the roof and a Montana stone for walls and columns both inside and out. "We wanted to echo the natural stacking of the boulders outside," he explains, "so we laid out the stone in a random ashlar pattern." The rooms fill in between the views. A main living area centers the house and spills onto a large rear terrace; the master suite branches off on one side; while an open dining area, kitchen and oval-shaped study anchor the other. Three self-contained guest suites extend down either side of a swimming pool entry courtyard.
"It's a very clean, contemporary structure," says Ortega. "And I wanted the interiors to blend with it." By using a muted palette, tailored furnishings and soft, tactile fabrics, Ortega created spaces that complement the strong materials and angular lines of the structure without competing with it. "Everyone thinks contemporary work is so hard edged, but you can create modern environments that are really comfortable and inviting," he says. In the living room, Ortega settled the furniture into "a loose, pinwheel arrangement" around a low table from Gulassa & Company. A Tufenkian rug adds texture and reflects the hues outside. "I took the coloration from nature," he explains. "I looked to the greens of the plants and the creams of the sand and stone, and that's what I brought into the house."
An Ingo Maurer pendant hangs above a Mario Bellini table in the open din- ing area, and Ortega chose a sleek bulthaup kitchen with light elm cabinetry to keep with the airy feel that pervades the home. "There's been such a heavy emphasis on dark woods for so long," he says. "This was a good venue to experiment with lighter woods. They make the space feel fresh."
To lighten up the master bedroom, he upholstered a custom bed with a sky-blue fabric and grounded it with another Tufenkian rug. Given the transparency of the house, Ortega had to design with the exterior spaces in mind as well. "All of the shapes and forms have to speak to one another," he says. Clean, low-profile pieces from Henry Hall and Holly Hunt continue the modern thread outside, where Cole approached the landscaping with a light hand. "We kept it simple and textural," says Cole, who replanted native saguaros, ocotillos and prickly pears that were disturbed during construction, and added in agave, aloes and ornamental grasses. "We wanted to restore and blend in."
The attitude shared by the whole team succeeded in creating a house that is tied to and respectful of its property. "Contemporary architecture can work in any setting, but it depends on how you marry it to the site," says Ortega. "This house was designed for this location. It's nestled into the coloration of the surroundings and disappears into the land."
Read more about this home here: